Chilean Salt Flats
If you're in the northern area of Chile, the salt flats (also called salt pans) are definitely a good idea to visit. These are natural flat expanses of ground covered with salt and other minerals that are usually shining white under the sun.

They are found in deserts, and they would be where ponds or lakes would be in humid climate. But in a desert the evaporation rate is faster than the precipitation rate leaving the minerals behind and accumulating on the surface. In Spanish they are called salar.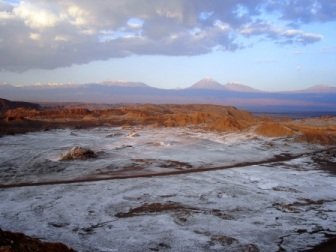 There are very beautiful salt pans here in the Atacama Desert because they are combined with a great view of a cordillera of mountains.
These are the salares that are in the Chilean Northern Region.


• Salar de Surire: Located 215 kms from Arica and 270kms from Iquique. This salt pan has been named a Natural Monument because of its beauty. This high altitude (4.200 above sea level) monument features great views and beautiful wildlife such as flamingos, vicuñas and viscachas. It's the ideal place to hike and observe the vegetation of the area and also visit the thermal waters. The main site to see is the Laguna Chiclalla Viejo, where you find the flamingos. The administration is found at the shore of the salt pans, located 129kms from Putre and 48 kms from Guallatire. Here you´ll find a place to spend the night, if reserved. The thermal baths are located 16 kms from the administration office. The best time to visit is from December to April.

• Salar de Huasco:
• Salar de Coposa
• Salar del Carmen
• Salar Aguas Calientes
• Salar de Atacama
• Laguna Salada
• Salar de Maricunga
• Salar de Pedernales
• Cinco Salares


Locate them on a map

Return from Chilean Salt Flats to Tourism Home