The Famous Chilean Wine
What Is Your Favorite Chilean Wine?
Share it here!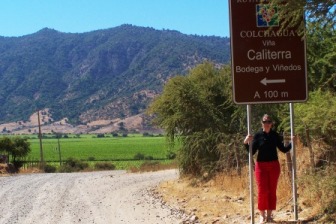 I assume you must have tried or at least heard about Chilean wine if you're wondering about it. The origin of the wine vines started when the Spanish conquistadors planted raisin pips that they brought over from Spain. Then through out the 18th century Jesuit missionaries started winemaking when they settled down in the country.



A century later Don Silvester Ochagavía who was an affluent landowner, wanted to improve the quality of his vine so he went to France. He brought back cuttings just in the nick of time because not too long after the vines developed a plague of the phylloxera beetle that begun to chew the roots of the vineyard in Europe and nearly destroyed the wine industries in Germany, Italy and France. While the European vines were being replanted several out of work French enologists came to Chile to give technical advice on planting and wine-making. This plague never made it to Chile because of its natural barriers such and the Pacific Ocean, the Atacama desert and the Andes mountains. This is what makes Chilean wine so special since the wine grows naturally, ungrafted, from the original European stock making a big difference in the taste of the wine.
At this time cuttings of Cabernet Sauvignon vines were planted and is now the most common type of red wine used. This is produced as a 100 percent unblended wine, although some people blend it with Merlot or less common Malbec grapes. At around the same time Cabernet Sauvignon was introduced someone else (unknown) brought cutting of Carmenere from Bordeaux. This vine and its wine are very similar to Merlot in fact it was classified as the same until 1990s when a Frenchman noticed the difference. After some testing they proved that is was Carmenere and it was become a Chilean signature because it's so rare.
White wine is made from Chardonnay and Savignon Blanc grapes also brought from Bordeaux, these having a softer taste and less pungent than the Loire Valley variety.
Another reason for this great tasting wine is the excellent place they have to grow the vines, the long Central Valley. Here the vines have the ideal temperate climate with hot sunny days and cool nights and the right type of soil for the vines to grow these wonderful grapes. The harvest of the grapes takes place between early March and mid-April, the picking stars later down south (near Curicó). In fact around mid-March a festival was started near Curicó for the vendimia held by the Miguel Torres winery, but now it's held in Santa Cruz in the Colchagua Valley.
Now for a bit of information about the wineries. If you plan to visit them there are some off-season tours available but they are limited to the bottling plant, the original cellars and the grounds of the winery. This kind of tour takes about an hour and includes tasting. Some wineries have added an elegant sales rooms and, in some cases, restaurants.
These are the wineries listed from north to south:

Chilean Wines in Elqui Valley

Cavas del Valle
Falernia

Chilean Wines of Limari Valley

Agua Tierra
Tamaya
Tabalí

Chilean Wines of Aconcagua Valley
Errázuriz
Mendoza
Vinícola Almendral

Casablanca Valley
Catrala
Casas del Bosque
Emiliana
Indómita
Mar
Matetic Vineyards
Veramonte
William Cole Vineyards

Casablanca Valley
Casa Marín

Maipo Valley
Almaviva
Antiyal
Aquitania
Cavas del Maipo
Chocalán
Concha y Toro
Cousiño Macul
Doña Javiera
Hacienda de Alhué
Haras de Pirque
Huelquén
Odfjell Vineyards
Pérez Cruz
Portal del Alto
Santa Carolina
Santa Rita
Sol y Viento
Tarapacá
Undurraga
Ventisquero

Cochapoal Valley
Altair
Anakena
Casa Porta
Chateau Los Boldos
Gracias de Chile
Lagar de Bezana

Colchagua Valley
Bisquertt
Casa Lapostolle
Casa Silva
El Huique
Estampa
J.F Lurton
La Playa
La Posada
Las Niñas
Laura Hartwig
Montes
Montgras
Santa Cruz
Santa Helena
Viñedos Emiliana
Viu Manent

Curicó Valley
Altacima
Echeverria
Mario Eduards
Miguel Torres
Millaman
San Pedro

Maule Valley
Balduzzi
Botalcura
Calina
Casa Donoso
Casas Patronales
Chilean Wine Company
Corral Victoria
El Aromo
Gillmore Estate
Hugo Casanova
J. Bouchon
La Reserva de Caliboro
Terranoble
Valle Frío
Via Wines

ItataValley
Casa Nueva
Casa de Giner
Mannle
Tierra y Fuego

What Is Your Favorite Chilean Wine?
Do you have a favorite Chilean Wine that you can leave the shore without it? Share with everyone what makes this wine so special and why it´s your favorite! Rate the best ones!
What Other Visitors Have Said
Click below to see contributions from other visitors to this page...

Miguel Torres or Perez Cruz Not rated yet
Trying to decide what is my favorite Chilean wine is almost impossible because so many of the wines from Chile (especially the reds) are so good that even …

Return From Chilean Wine to Chile Tourism