Santiago Tourism



I decided to do this page on Santiago Tourism since I happen to be in Santiago right now and I want to tell you about what I see and think would be a neat place for you to visit.
I'm going to talk about the TOURIST attractions of Santiago, so for all the mall and movie lovers I will list them in another page.






The first place I went on my trip here was La Moneda Palace. This is the seat of the current Present of Chile. It is located on the Moneda street (North), the Alameda del Libertador Bernardo O´Higgins (South), Teatinos (West), Morandé (East). If you're going by metro you go to the Moneda stop on the red rail, (click here to see the metro map). I was told after I went that if you go to the entrance you can to inside to a garden called El Patio de los Naranjos and another garden called Patio de los Cañiones, they don't charge to in but they check your bags and you have to through a metal detector.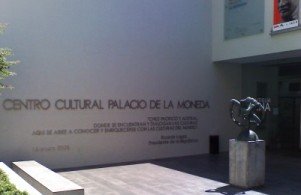 Once you're done there you come out and go to the Centro Cultural Palacio De La Moneda. There are different cultural exhibitions that change from time to time and the cost isn't all that much. When I went it cost me $1000 pesos (which is around 2 dollars) to see the Violeta Parra art gallery and the Terracota Army. Click here to see what they have on currently. As you can see in this picture these are the hours they are open.
Another neat place for Santiago tourism is the Mercado Central or the central fish market. It is located in downtown Santiago on Isabel La Catolica Ave, between Puerto de Palos and Rabida streets. If you're going by metro you go to the Puente Cal y Canto stop on the yellow rail. Click here to see the metro map. Here you can eat and buy all types of seafood, and there are some stands of fruit too. This is one of the oldest buildings in Chile (built in 1872) so is considered a historical building. The average plate cost about $5000 pesos which is around $10 dollars. I recommend Machas a la Parmesana or Locos if you like abalone. If you don't like seafood but you want to try a typical dish then have a Pastel de Choclo like this one, or Humitas.
So now on Santiago tourism, places I haven't been to but I am told they are neat.
I hear everyone is dying to get in to the General Cemetery (Cementerio General). Like I said, I haven't been there myself but I passed it once and I saw these neat statues outside of it that caught my attention so I asked my friend about it and she said that the old Chilean presidents were buried there. Their address is Avenida La Paz, Santiago. My friend said that she thinks they have tours showing the graves but just in case click here to see their webpage.
For a little bit of Chilean history you must visit Villa Grimaldi. This isn't one of the nice memories of their past, but one you must see to learn what they've been through. This park was opened in 1997 to commemorate its use back during the Augusto Pinochet regimen (1973-1990). In that time they used it as a secret detention center were they would torture people. It is now used as a reflection park and is called Parque Por la Paz Villa Grimaldi, which means a peace park. It is located in Peñalolén on Avenida José Arrieta 8401. If you want to take the metro you must go to the Plaza Egaña station, on the bus you take the Transantiago bus 513 or the D09. There is no cost for admission and they are open every day from 10 am to 6pm. Santiago Tourism for the outdoors people, you might want to hike up Cerro San Cristobal, its the one with Statue of the Virgin Mary that you can see in town. It is part of a group of mountains, (Chacarillas, Los Gemelos, Pirámide and El Carbon), that are called Parque Metropolitano. In this park is full of activities for everyone, there are different paths for those who like to hike, run and bicycle up. For a more relaxed way up you can take a lift to the top, drive up (must pay at a toll), get a colectivo, or ride the tour bus. There are many places were you can stop and look down at Santiago. There are also free organised sports programmed during the weekends such as yoga, aerobike, pilates and located exercises. There is also a pool area and a zoo you can visit for an admission price. This is their map, and for more info click here.
For a smaller hike you can hike up the Cerro Santa Lucia. This is located in the heart of Santiago, at the metro stop Metro de Santiago. Its 629mts above sea level and its importance goes back to 1541 when Pedro de Valdivia founded this town as Santiago de Nueva Extremadura. Like I said before it is a smaller hike but if you go up before 12 pm then you can see and hear the canyon go off at 12pm. My friend works by here and she says she still jumps everyday at 12 pm because it's so loud and she always forgets about it. So cover your ears!
I know that isn't all there is on Santiago tourism but this is what I can think of now, but I promise I will keep on adding more attractions in Santiago once I find more.

Return From Santiago Tourism To Tourist Attractions Page
Return from Santiago Tourism to Chile Tourism Home
Return From Santiago Tourism to Chile Cities