What Happens On September 18?
So it's September 18 and you're probably wondering what is so special about this day for Chileans. This is their Independence Day and boy do they celebrate it.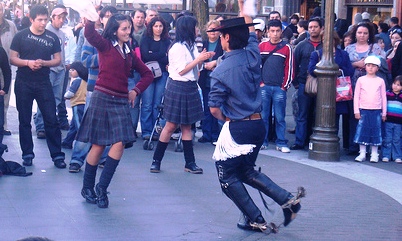 They actually spend usually 2 or 3 days celebrating the day of their independence from the Spanish colony in 1810. But really on this day back then the first National Governmental Reunion was held and in fact was only the first step towards the independence of Chile.

The actual day of independence, when they signed a declaration, was on February 12 of 1818. So how is it celebrated?
Well the 18th of September for the Chileans is almost like Christmas; in fact they celebrate it more. They start to prepare for it the first couple of days of September. Everywhere you go you see all the stores are decorated with Chile's colours; red, white and blue. You see people put little chilean flags on the antennas of their cars and everyone starts to make plans for that long weekend. The bakeries start to make the traditional foods such as empandas, pajaritos, asados, chicha and wines.
On the week and days close to the 18th you will start to see, and hear, about ramadas. Ramadas are little kiosks that you find open on this occasion. The roof of the kiosk is covered with branches, called ramas in Spanish, and that's why they are called ramadas. This is where people will go to buy the traditional foods, drinks, spend time with friends and dance all night.
Another common thing you might hear about is la cueca. This is the National dance and it is danced a lot during this time of year. It's supposed to represent how a roster wins over the hen with his dance and they dance around together. Many people dance this at the ramadas to celebrate and there are various competitions with all sorts of different levels. There are also various rodeo competitions and horse shows.
This is one of the longest and most celebrated holidays in the Chilean culture. It usually starts on the 16th of September; people take half a day off, and carries on to the 19th or even 20th. All theses day celebrating with friends and family, having great big feasts and lots of dancing. So if you ever get the chance I would definitely recommend making a trip to Chile in September to see what everyone is celebrating and really get a feel of the Chilean culture.

Return from september 18 to Chile Holidays
Return from september 18 to Chile Culture