Chilean Geyser
The Chilean geyser is definitely an attraction you don't want to miss out on because it's not everyday you get to see one, and they only exist in a few places in the world. Chile is one of the lucky places to have not one but a whole field of them.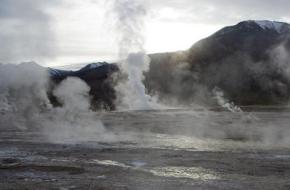 For those of you who don't know what a geyser is, it's a hot spring that has an intermittent discharge of water ejected turbulently and accompanied by a vapour phase (steam). Only that the one's here don't discharge much water, mostly steam.


Normally the geyser field sites are located near active volcanic areas, and their effect is due to the proximity of magma. The way it's formed is that the surface water works its way down and it meets up with hot rocks, then the boiling pressurized water shoots up in a steam form through the geyser's surface vent.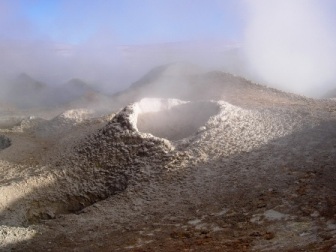 The Tatio geyser is the most popular here in Chile, and it's also known internationally. Its name means ¨the granfather¨ geyser. It's located 95 kms north from San Pedro de Atacama. This is the highest field in the world, located at 4300mtrs above sea level, and it's formed by the Tatio volcano.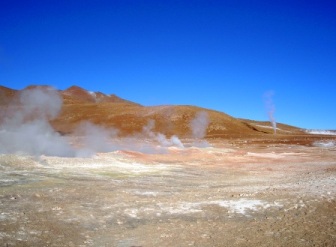 There are more than 70 fumaroles of steam, forming 60 hot pools of water, which have their soft edges formed of minerals. As you walk through the field you'll hear the sounds of the hissing and bubbling that is from the geysers. It's important to walk carefully and to respect the ropes since it is dangerous to fall into the hot steam, pools of water or the very hot mud. This can result in a first degree burn.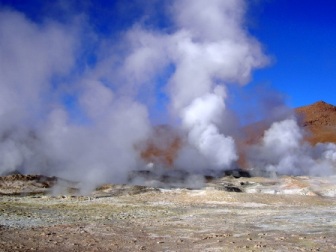 If you want to see them at their best time, that would be at sunrise. If you're coming from San Pedro that would mean that you would have to leave at 4:00 am, at the latest, to get there at 6:00 am. You won't make it if you leave after that. Most tours leave at this time and they offer breakfast once you get to the site. There are tours from Calama also. If you plan to drive up yourself make sure your vehicle is a high clearance vehicle and hopefully has 4WD. Try to take the road via the villages Caspana and Chiu Chiu rather than San Pedro since it's a much better route.
What to wear? Well it's pretty cold in the morning, but as the sun starts to rise it does start to get warmer and you might want to take some clothes. So dress warmly but with layers so you can take some clothes off. But also don't forget your bathing suits cause there are some hot springs that are at a nice temperature to bathe in and relax.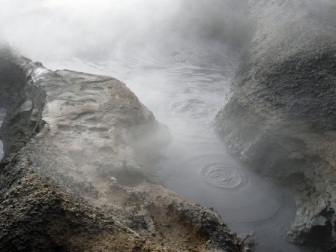 The geysers are administered by the indigenous community of Caspana and Toconce. They charge for admission US $7.00. In the premises they provide restrooms, an information office and an infirmary. There is also a run-down refugio 2 kms before the fields, for those who want to spend the night. It's better than sleeping outside cause it gets really cold.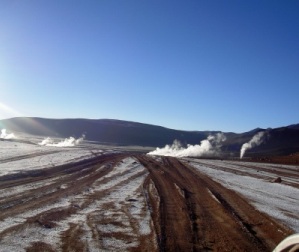 There is a camp ground for those brave enough to camp and stand the freezing the nights. If you've made up your mind the take a really warm sleeping bag and lot's of food and water cause there isn't anywhere that you can buy some.

Return from Chilean Geyser to Tourist Attractions in Chile
Return from Chilean Geyser to Chile Tourism Home Page