The Famous Chilean Pisco Sour


Pisco Sour is famous all right! You can't come to Chile and not try one, and you will definitely hear about it once you're here. Chile even has a day of the pisco, it's celebrated on May 15th, as Chile's National Pisco Day.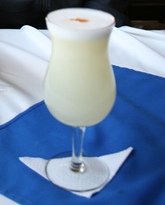 This cocktail drink is prepared very time the Chileans have a gathering of some sort and it's popular on the holidays, especially on the 18th of September (Chile's independence day). Pisco Sour is a drink that's made with pisco, lemons, sugar and ice. Those are the main ingredients, although there are different varieties some with egg whites others with bitter (Angostura bitters), but the main ingredients don't change.
It is usually served in cocktail glasses. It is a very sweet tasting and tends to go down fast, even though its a very strong drink. So be careful when drinking pisco sour, not to drink too many with an empty stomach, because I assure you will feel the effect once you stand up, especially if you don't eat anything. That is why the Chileans usually serve before they eat.
The best tasting pisco sours are the ones that have been prepared the in the moment. The taste is like lemonade with a hint of alcohol, very easy to drink. There are a variety of all ready made drinks sold in the supermarkets and stores but they don't taste very good since they are chemically made and the lemon that they put in it is a fake lemon juice. This alters the taste completely, but if you have to try it this way mix it with real lemon juice and ice. Then try it, it will taste much better.
So are you ready to make it yourself? Then go out and buy a bottle of pisco, lemons and sugar, and make a lot of ice. For a single portion, squeeze the juice out of one or two lemons and put it in a cocktail glass, such as a champagne glass. Then in the same glass put two times more pisco than there is lemon juice. Next poor it all into a cocktail shaker or the blender and add 1 or 2 tablespoons (depending on how sweet you like it) and about 5 cubes of ice, then shake or blend. This will make about a glass or two. So Enjoy! (Remember to eat after!)

Return From Pisco Sour Page to Chile Food